Mason Mingus; Win-Tron Racing Readies Daytona Debut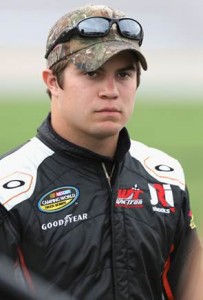 DAYTONA BEACH, Florida (February 19, 2014) – – Sunoco Rookie of the Year contender Mason Mingus and his Win-Tron Racing team hope to "smoke" the competition in Friday night's NASCAR Camping World Truck Series (NCWTS) season opener at Daytona (Fla.) International Speedway.

Mingus and his Mooresville, North Carolina-based team have picked up a one-race partnership with Charlotte, North Carolina-based MadVapes, who will serve as the primary marketing partner on the team's No. 35 Toyota Tundra for the team's Daytona debut.

MadVapes is a premier manufacturer of e-cig products, available online as well as their nationwide retail locations.

"I am really excited and honored to be able to partner with a company like MadVapes for our Daytona debut," said Mingus, who finished second in the ARCA Racing Series presented by Menards point standings last year. "I'm truly looking forward to getting back to the track and having the opportunity to run up front in our No. 35 MadVapes Toyota Tundra."

The team, led by former ARCA Racing Series champion crew chief Mark Rette, participated in the open-test session at the 2.5-mile superspeedway last month. After months of preparation, the rookie NCWTS team performed well, giving them optimism heading into Friday night's NextEra Energy Resources 250.

"We learned a lot with the test, even with the weather," offered Mingus. "It was important for us to test with the new truck and all. I was pretty happy with its performance and the guys have busted their tails since then to make sure we're prepared for Friday night."

Not only does the Brentwood, Tennessee native see this week's race as the opportunity to launch his newest racing endeavor into stardom, but he also sees his opportunity at the "World Center of Racing" as a place to seek redemption.

"I made my truck debut last fall at Talladega, but it was cut very short. We had a good truck then and I think we'll have an even better truck now. We just need everything to go our way. Who knows? It's Daytona. That place is known for breeding first time winners. Maybe Friday night is our turn."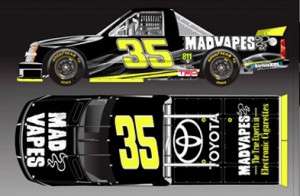 Mingus, 19, scored one top-five and two top-10s in both restrictor plate races last year in ARCA knows that a good outcome in the race could set a positive tone towards being a contender for the championship in 2014.

"A good run on Friday night could give us a much needed liftoff in the race for the championship," Mingus sounded. "It's a big deal to race here (in NASCAR). I know I am a rookie. I know I have a lot to learn, but I'm willing to put in the time, effort and dedication to become a better driver to prove that we belong here. I have a strong foundation around me and I hope that will pay off in a big way this season."

In addition to MadVapes, Call 811 Before You Dig will serve as an associate marketing partner in the 100-lap shootout on Friday night.

It's already been a strong week for veteran racing team, Win-Tron Racing. Last Saturday, the team produced two top-10 finishes in the ARCA Racing Series presented by Menards season opener. Frank Kimmel, the team's full-time ARCA driver garnished a second-place run in his Win-Tron Racing debut, while Canadian Terry Jones recovered from overheating issues to net a strong eighth place effort.

"We're anxious to get to Daytona, because we feel we can turn a few heads," said Nate Thiesse, co-truck owner at Win-Tron Racing. "Mason has proved himself as a strong restrictor plate racer and we hope that will continue on Friday night. We know it's Daytona and the history and legacy that comes with racing there, but we're optimistic, because we feel like we'll have a strong enough truck to compete for a well deserving finish."

Learn about Call 811 Before You Dig and what it can do for you by connecting to call811.com.


Follow Win-Tron Racing on Twitter @WinTronRacing.

Mingus tweets too. Follow him on Twitter @Mason_Mingus.

About Win-Tron Racing:

Located in Mooresville, North Carolina, Win-Tron Racing (Win-TronRacing.com / @WinTronRacing) is the home of one the most potent ARCA Racing Series presented by Menards single-car operations. Owned by former racers Kevin Cywinski and Nate Thiesse, the team since has acquired the assets of County Joe Racing, becoming a favorable fixture on the circuit. Since Win-Tron Racing's inception in 2007, the team has hosted a variety of drivers including leading drivers James Buescher, Blake Bjorklund, Justin Marks, Matt Merrell and Brandon McReynolds to their first career ARCA victories. In 2014, the team will begin its eighth year of competition with a full-time presence in the ARCA Racing Series presented by Menards and the NASCAR Camping World Truck Series.