MASON MINGUS
Driver, No. 15 Chevrolet Silverado
Birth date: November 28, 1994
Birthplace: Louisville, Ky.
Resides: Sherrills Ford, N.C./Brentwood, Tenn.
Interests: Wrestling, football, track, off-roading, jet-skiing, wakeboarding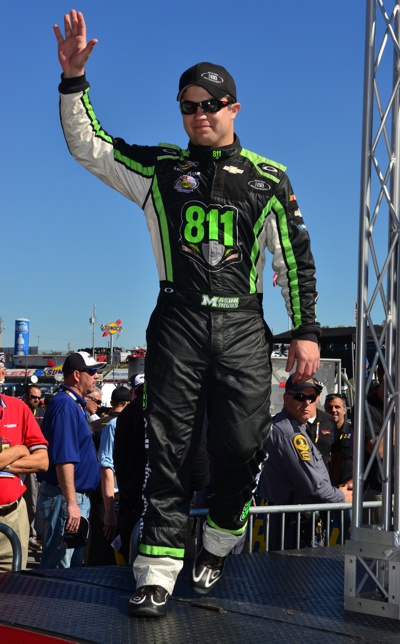 A life-long athlete excelling in the fields of wrestling, football and track, Mason Mingus' pursuit of a championship in another sport – auto racing – began in 2002 as a seven-year-old, when he began competing in Quarter Midgets in Kentucky and Tennessee.
Mingus graduated to the Miniature Motorsports Racing Association (MMRA) Mini Cup Series in 2005, competing weekly in miniature stock cars at Bowling Green, Ky.'s Beech Bend Raceway Park while also starting to travel around the Southeast in special touring competitions. By the end of 2007, Mingus had picked up a number of winner's trophies at Bowling Green and a victory in Cheyenne, Wyo., in the touring MMRA Mini Cup.
2008 proved to be the year when Mingus would begin to turn some heads and had doors of opportunity begin to open. Most of his success this season was thanks to his transition to the MMRA Baby Grand series, featuring a type of full-fendered racing vehicle sized between the Mini Cups and the average NASCAR stock car. Mingus quickly found his footing in this series, winning touring races at Bowling Green and then at the historic Fairgrounds Speedway in Nashville, Tenn. His successes earned him the 2008 MMRA Baby Grand national championship as well as the local Baby Grand title at Bowling Green.
2009 presented another new challenge for Mingus as he joined the new Ken-Ten Pro Late Model (PLM) Series driving for Kevin Gardner, a local track titlist who saw Mingus' immense potential. Competing against some very talented and experienced PLM talent, Mingus more than held his own in his rookie season, recording a top-five and four top-10s en route to an eighth-place finish on the tour.
Returning to the Ken-Ten Series in 2010, Mingus celebrated multiple milestones over the course of the season. First, he recorded his first ever touring Late Model victory at Salem (Ind.) Speedway in June. Later, his consistently strong finishes netted the 15-year-old driver the 2010 Ken-Ten Pro Late Model championship. While the title serves as Mingus' most notable season-long accomplishment to date, the undisputed highlight came in October, when he competed in the prestigious Winchester 400 at Winchester (Ind.) Speedway, and finished fourth among some of the best short track racers in the country.
Mingus' head-turning performance in Winchester earned him a full-time ride in the CRA Super Late Model Series in 2011 with sponsorship support from Kentucky-Tennessee 811. After finishing second in the season opener, Mingus gained even more respect from the media, fellow competitors and fans.
In 2012, Mason combined a successful year of racing in the CRA Super Late Model Series and 14 starts in the ARCA Series, finishing a season-best sixth at both Winchester and Salem speedways.
Mingus committed full-time to the ARCA Series in 2013, teaming up with the elite Win-Tron Racing, a NASCAR development team program long known for cultivating young, up-and-coming drivers and preparing them for the next level. Another impressive year in his racing résumé, the season saw Mingus earn two poles and five top-fives while finishing second in points and as runner-up for Rookie of the Year. 2013 also gave Mingus his first taste of racing in one of NASCAR's top national series, making three starts in the Camping World Truck Series with Win-Tron.
In 2014, Mingus kept climbing the racing ladder, progressing to a full-time schedule in the Truck Series. Racing for Win-Tron and Billy Boat Motorsports, Mingus notched one top-10 and five top-15s in his first full year in a NASCAR national touring series.
2015 will see the 20-year-old's return to the seat of the No. 15 Chevy Silverado for Billy Boat. With multiple championships already under his belt, and a history that has seen him move only up, Mingus will continue to strive for a national title in one of the top racing series in the world.